First launch in Okinawa!
"37 Steakhouse & Bar" with local ingredients
This steakhouse serving authentic grilled dishes such as select aged meats is now open for the first time in Okinawa.
From breakfast to bar time, enjoy our fine cuisine throughout the day in a luxurious atmosphere.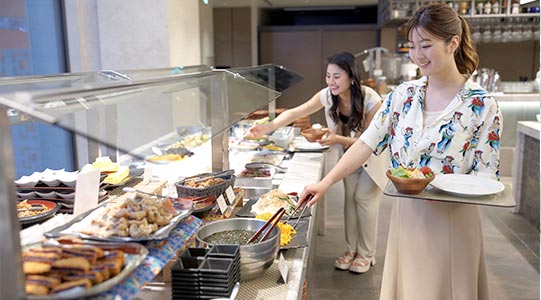 BREAKFAST
Breakfast buffet at the restaurant "37 Steakhouse & Bar"
Hours
6:30 - 10:00 (Last orders 9:30)
Breakfast Price
[For our guests]
2,200 JPY per adult
1,500 JPY per child
Pre-school Children: Free
Breakfast menu

A hearty breakfast to give you energy for the day

"Hearty breakfast buffet" with a variety of approximately 60 dishes using local ingredients from around Okinawa and Kyushu. Enjoy this colorful and delicious breakfast in our sunlit restaurant to provide a powerful start to your day.
"Hearty breakfast buffet" with a variety of approximately 60 dishes
using local ingredients from around Okinawa and Kyushu.
Bread

Six types of bread are baked in our kitchen every morning. Try our original mentai (spicy cod roe) baguette!

Salad Bar

Okinawa island vegetables with sea grapes served as toppings on your salad. Try our five different types of homemade dressings including shequasar (flat lemon) dressing.

Eggs

At the egg station, the chef will custom-make your omelet or sunny-side-up eggs right in front of you. There is also a weekly menu of tacos or Okinawa soba noodles.
Okinawa Cuisine

We encourage you to enjoy Okinawan local specialties, such as goya champuru (stir-fried bitter melon), rafute (glazed pork belly), and ninjin shirishiri (shredded carrots). Our original Jimami tofu is also a must try.

Side Dishes

Our side dishes are also a treat, using local ingredients from around Kyushu including squid siumai, mentaiko (spicy cod roe), and karashi renkon (lotus with mustard).

Original morning curry

This curry is made especially for the morning with our original recipe.
You can't miss it as you smell the spicy aroma.
Orion Beer

We serve Orion draft morning beer.
(500 JPY additional charge applies)

Coffee after breakfast

We have coffee for you to take away. Bring the coffee back to your room to relax.
※ This is a sample menu.
LUNCH
Hours
11:30 - 15:00 (Last orders 14:30)
Lunch menu

Enjoy a semi-buffet lunch, which in addition to a selection of main dishes such as 37 Classic Burger and Grilled Yanbaru Chicken, also includes a buffet with a wide variety of appetizers, salad, specialty curry and soup, together with drinks (coffee or tea).
Also available is the Lunch Course featuring "37 Premium Sandwiches," specialty aged steak and other items.
*Breakfast vouchers may be used.

Examples from the menu
・Grilled Okinawa Yanbaru Chicken
・37 Classic Burger (with French fries)
・Grilled Swordfish Lemon Butter Sauce
・21 Days Aged Black Angus Beef 150g Rib Steak
TEATIME
| | |
| --- | --- |
| Hours | 14:30 - 16:30 (Last orders 16:00) |
DINNER
| | |
| --- | --- |
| Hours | 17:30 - 22:30 (Last orders 21:30) |
| Dinner Menu | A wide variety of menu items are available from salads and appetizers to the main course. Naturally, our specialty is steak, but we also have other main dishes available. If you prefer fish, the seafood menu at 37 Steakhouse & Bar is also excellent. Please refer to our website for more dinner details, and you can also inquire about party plans. |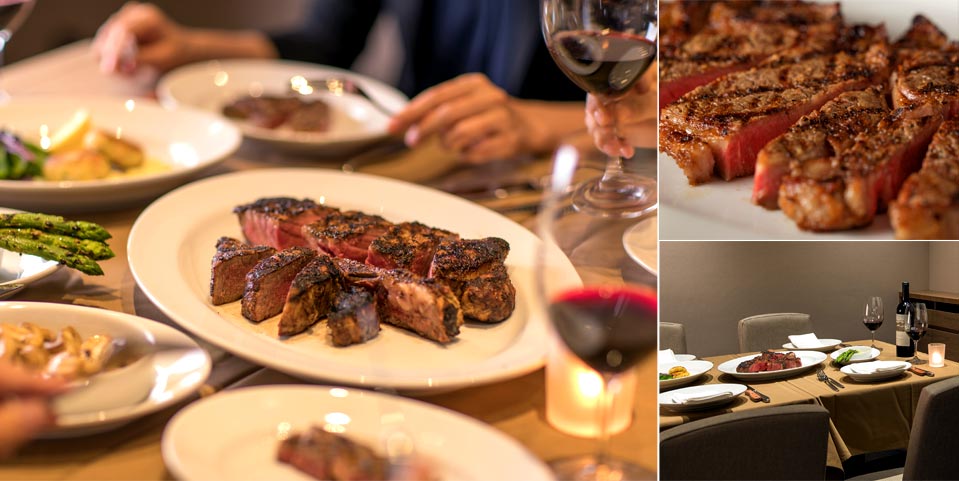 PRIVATE DINING
We have a private dining room available in the restaurant which can accommodate up to 12 guests. Please feel free to contact us for more information.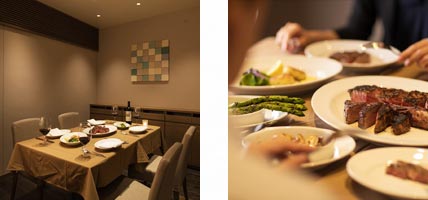 Restaurant
37 Steakhouse & Bar
37 Steakhouse & Bar is an authentic New York style steakhouse, specializing in serving prime rib steak.
Our specialties are the porterhouse steak of thick-cut Australian Wagyu aged for 21 days and Black Angus prime rib steak with its exquisite balance of lean meat and fat.
You can enjoy these fabulous dishes at reasonable prices that you may be surprised to find at an authentic steakhouse.
We also have a bar counter and a private dining room that seats up to 12 people. Anyone from single diners to a large party can enjoy a meal in our spacious dining hall with 6-meter-high ceilings and approximately 100 seats. A 200-inch screen and audio equipment are also available, making this setting perfect for various types of parties, including an after-party of a wedding ceremony.
Name of Restaurant
37 Steakhouse & Bar
Tel
+81-98-917-5737
Location
1st Floor of the Hotel
Hours
[Breakfast] 6:30 - 10:00 (Last orders 9:30)
[Lunch] 11:30 - 15:00 (Last orders 14:30)
[Tea Time] 14:30 - 16:30 (Last orders 16:00)
[Dinner] 17:30 - 22:30 (Last orders 21:30)
Seating Capacity
92 seats